Posted by Lyndsie Ezell on Jan 27, 2022
The Dell EMC PowerEdge T640 delivers ultimate two-socket performance and massive internal storage capacity in a rack or tower platform.

Powered by Intel Xeon Scalable processors the T640 drives a wide range of workloads for mid-sized offices, remote sites and data centers including desktop (VDI) and server virtualization, ERP, database management, data analysis and medical, education, science applications and Software Defined Storage (SDS).
The Dell EMC PowerEdge T640 tower server can be used as a tower or 5U rack server with an optional rail-mount kit. New features on this system include up to 8x PCIe SSD (NVMe) drive support, 10GbE networking, updated management with iDRAC 9.0, and support for Intel Xeon Scalable processors. The case design, which is very similar to the previous T630 generation, features a honeycomb bezel. The bezel comes with a lock to secure the front mounted hard drives and can be ordered with or without an optional LED display panel.
As a two-socket server, one or two Intel Xeon Scalable processors from the first or second generation can be installed in the Dell T640. Choose from Bronze, Silver, Gold, or Platinum. The T640 can support processors with up to 28 cores each for a maximum core count of 56 cores in a two-processor configuration.
Server management has been upgraded with the embedded iDRAC 9.0 with Lifecycle Controller. Quick Sync, which works with a smart phone or tablet, has been updated to work over WiFi, and supports both Android and iOS devices. Quick Sync 2 is integrated into the chassis, so you don't have to purchase a Quick Sync bezel like the Gen 13 systems. OpenManage Enterprise is included with the system to provide a simple-to-use, one-to-many systems management console for monitoring and updating your PowerEdge servers.
The Dell EMC PowerEdge T640 tower server is a very practical addition to a startup business with the ability to scale as your business grows. This system is right at home in the data center with the ability to be rack mounted as a 5U server to support VDI applications with the addition of up to four GPU accelerators.
The PowerEdge T640 server from Dell EMC is a practical, powerful, and cost-effective server that gives you the ability to scale as your business and needs grow.
---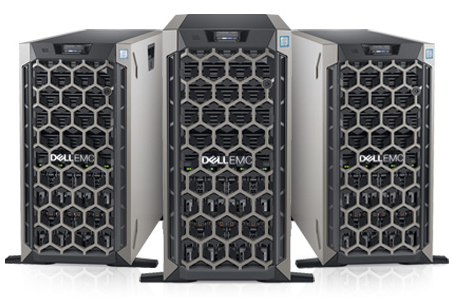 General Server Details:
CPU(s): Up to 2 x Intel Xeon SP Multi Core
Memory: 24 DIMM Slots (Max 3TB)
RAID: PERC H330, PERC H730P 2GB NV, PERC H740P 8GB NV
HDD: 3.5" and 2.5" Hot Swap SAS, SATA and Near Line SAS, NVMe SSD
RISER: 8 PCIe Gen 3 Slots (Full Height)
Power: 495W, 750W, 1100W, 1600W, 2000W and 2400W Hot Swap Redundant
Contact xByte today, sales@xbyte.com, to receive a custom quote on a Dell EMC PowerEdge T640.
---
Related Blogs
Related Videos